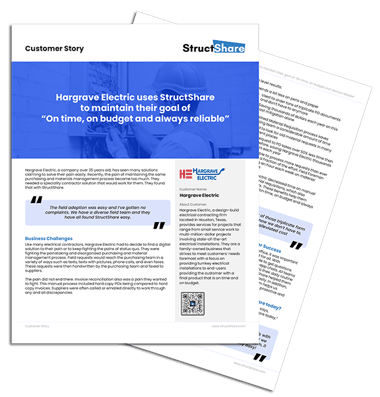 To view the PDF, please share your email and a link will be directly provided.
Hargrave Electric, President Brian Hargrave says:
"When looking for a tech partner I looked for someone that would adapt to my needs, not make me adapt to their product, and StructShare has been really good about that and I've appreciated it."
"We originally thought we would use this with just one or two of our vendors, but now we use StructShare to order from all of them, it has made the process really easy!"
Elevate your procurement and purchasing process to the next level with StructShare's end-to-end procurement and material management solution!
BONUS:
Share StructShare with others and earn $$$ for every eligible referral. Learn more here!
"The fastest value I ever got. Processing a PO used to take me 4 hours, now its the a click of a button, and BOOM!"
Jimmy Edmonds, Operations Manager